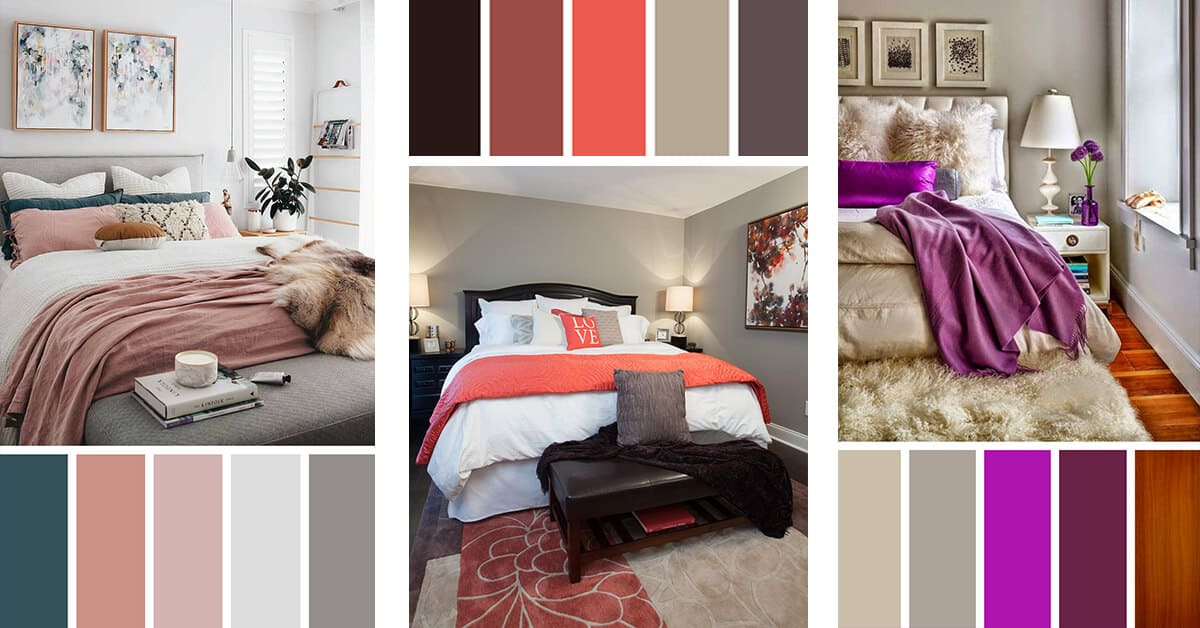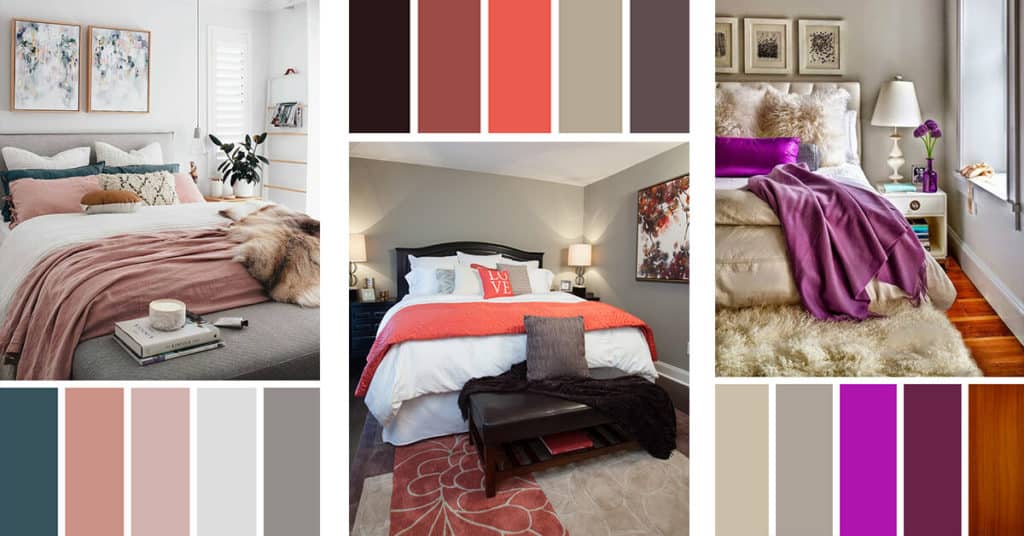 A bedroom color scheme is one of the foremost things that most people think about when it comes to decorating a bedroom. These bedroom color schemes could vary from neutrals to bolds or even a simple two-color combination for the bedroom walls.  No matter what you choose, picking the right color schemes can set the ball rolling towards your ideal bedroom space.
In this article, we will focus on a three-color and two-color combination for the bedroom walls in 2021, that will help and inspire you to pick the best color schemes for your own bedroom space. Let's quickly dive in!
Top 15 bedroom color scheme combinations that will help you transform your bedroom into an ideal space
Listed below are 15 bedroom color palette combinations that will help you to create a room of your own!
A black and white bedroom color palette is one that can never go out of style and help you totally transform the room, depending on which color becomes your lead hue. This means you can either let the black lead with hints and accessories to help you create a sensual space or vice-versa.
This two-color combination for the bedroom can allow the space to have hints of a vintage theme that could be quite crucial to balance out. Think of the muted green shades, such as sage or olive with the light blushes of pink rose, doesn't this sound just perfect for your bedroom? However, while finalizing, make sure that they don't come alive as too vivid or it might rather turn into an overly childlike space.
This two-color wall combination helps you with the best color mix of warmth and classy at the same time in your bedroom. Think burnt orange ( that happens to be the favorite pick for most advisers ) with undertones of neutrals like white or tan.
Greens are tranquil colors that are known to be well-paired to the neutrals like crisp white. This two-color wall combination for your bedroom ideas is a great choice if you want to create and relive the mid-century modern or moody bedroom themes to your home.
5) Pink, orange, and white
Pink, orange, and white are colors that are considered to be happy and mood-lifting color schemes, and what better way than redecorating your bedroom with these high-energy colors? Also, the white in the close netted colors helps break the two vivid shades and bud a classic look.
Reds, blues, and whites are traditional and timeless color combinations that resonate your bedroom into a space that proves a sense of understated and subtleness. Try to feature the blues and whites in your room to take center stage and softly weave in gently red accessories. This is because red will help boost a fiery, bold layer to the subtleness of the otherwise tranquil and calming space.
These as bedroom colors make a great combination, where peach kicks in the subtle hue and tan and brown as the focal point boosting in the brighter and vividness into space. Therefore, think boho, think brown, peach, and tan.
This two-color combination might come across strange, but when brought together, they create magic for a bedroom space. This all about a little bit of glam mixed with the depth of the mood shady maroon, for either the accent wall, rug, or bedding.
Tip – Try to throw in 2-3 mustard velvet fun pillows as a contrast to the deep reddish maroon.
These two-color combinations when thrown on the walls talk timeless and classic. Pair the color with a few crisps of white and you are assured of your favorite pairings that lend depth to any room also with the bright white adds on the sleek and stylish.
10) Green, white, and gray
Get the room a minimalistic hint with these neutrals that add up to the sleekness of the space while maintaining an understated combination. The muted soft denim blues and the washed-out greens provide your space a vintage and timeless look with the subtlety of the whites.
While we all are fans and are a part of the all-white bedroom look club, the hints of wood bring out the Swedish vibe. So, add in a block of natural blonde wood with some light neutrals like whites or grays, and set yourself an ideal room!
The color scheme- black and grey, is the best combination of moody, and if you are somewhat a part of the same trait, then why not! This is a perfect color scheme inspiration that has blacks as a bolder color with lighter hues of greys and crisp whites that wouldn't make your bedroom too dark.
Are you looking for a completely neutral look? If yes, then tan and whites are your picks today! These are the best alternative to an all-white bedroom. The crisp whites when paired with one or two neutral help provide your add in more visual interest and depth yet being simple.
14) Olive, white, and mustard
These are a trio of unique combinations of colors that add a vintage flair to your bedroom. Olive is a subdued hue that is relaxed and calming, as well as, trendy. While the others, whites, and mustard are rather bolder and comforting yet rich color schemes.
This bedroom scheme features a combination of two colors that many designers love pairing together. Although browns could be quite a task to work with, when paired with the alert and bold reds, they transform into a more natural deep leather or wood-like texture with warmth in the space.
It is really important for you to choose the correct palette as it not only helps to uplift the room while boosting its features but also further enhances the complete look of your dream house. Therefore, make sure to look for the right combination for the article above that rightly adds up to your preference and taste.
Color palettes For Your Bedroom FAQs
1. How to pick the right palette to add to a room?
(1. ) Pick the right color scheme from the largest pattern for space. (2. ) Plan to decorate from dark to light. (3. ) Always begin from the formal areas of the house. (4. ) Make sure of a color wheel. (5. ) Try and contrast the lead colors with warm and cool colors. (6. ) Keep in mind to bring forward your personal style.
2. What are relaxing colors to add to a bedroom?
(1. ) Lush lavender (2. ) Tranquil and crisp white (3. ) Blue and gray (4. ) Sea blue (5. ) Pastel purple (6. ) Dusty pink (7. ) Neutral beige (8. ) Sage gree
3. What is the most popular home decor?
(1. ) Modern style (2. ) Mid-century modern style (3. ) Minimalist style (4. ) Scandinavian style (5. ) Industrial style (6. ) Contemporary style (7. ) Urban style (8. ) Traditional and classic style